<![if !IE]> <![endif]>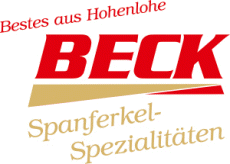 Beck GmbH & Co. KG Spanferkel-Spezialitäten
Flurweg 21
74635 Kupferzell
Germany
+49 7944 91310 0

+49 7944 9131 31

List of Products
This exhibitor shows the following products and commodity groups:

Trend subjects
Products based on fair trade
Ready-to-eat products
Superfoods

Distribution Channel
Products (Manufacturer's brand) for the food wholesale and retail trade
Products for food service and catering
Products for the food processing industry
Provided products (private label) for the food and wholesale and retail trade

Target and sales markets
Africa
Asia
Brazil
Canada
China
East Africa
Europe
Germany
Japan
Mexico
Northern Europe
Russia
South Africa
South East Asia
Southern Europe
The Americas
USA
West Africa
Western Europe

Company & products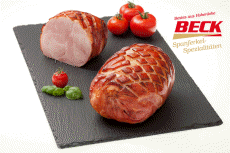 SPEZIALITÄTEN AUS HOHENLOHE
SPEZIALITÄTEN AUS HOHENLOHE
FEINE SPANFERKEL - PRODUKTE VON BECK

Die von uns verarbeiteten Spanferkel stammen aus artgerechter Haltung bei naturgemäßer Ernährung.

Die gesunde Aufzucht macht sich in der Fleischqualtität bemerkbar: es ist fettarm, zart und damit besonders hochwertig.

Handwerkliches Können und schonende Verarbeitung machen jedes Stück zum Leckerbissen.
Zubereitungsempfehlung: Spanferkel Krustenbraten ohne Knochen, gegart

Den Krustenbraten aus der Folie nehmen und auf ein Gitter in der mittleren Schiene des Backofens legen. Ein Backblech mit ca. ½ Liter Wasser befüllen und unter den Rost (ganz unten im Ofen) schieben damit der Krustenbraten saftig bleibt .

Mit Umluft auf 130°C, bei Unter- und Oberhitze auf max. 140°C für ca. 60 Minuten erhitzen.

In den letzten 10 Min. den Backofen auf 155 °C erhitzen, damit die Kruste knusprig wird.

Auch im kalten Zustand ist unser Krustenbraten als Aufschnitt oder Vesperscheibe ein echter Leckerbissen