<![if !IE]> <![endif]>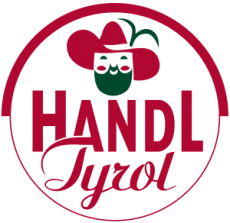 Handl Tyrol GmbH
Bundesstr. 33
6551 Pians
Austria
List of Products
This exhibitor shows the following products and commodity groups:

Product sector
Meat
Organic

Trend subjects
Functional & Free from products
Products with protected designation of origin

Distribution Channel
Products (Manufacturer's brand) for the food wholesale and retail trade
Provided products (private label) for the food and wholesale and retail trade

Target and sales markets
Canada
Germany
Japan
Northern Europe
Others Eastern Europe
Southern Europe
Western Europe

Special show area
Anuga Organic Market

Company & products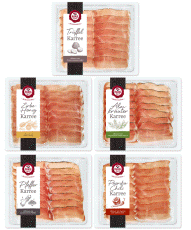 HANDL TYROL Meisterauslese - Karree affiniert
Affineure genießen im Käsebereich höchstes Ansehen. In seiner ursprünglichsten Form bedeutet "Affinieren" das Pflegen und Veredeln von Käse. HANDL TYROL ist es nun gelungen, diese höchste Form der Geschmacksveredelung auch auf den Speck zu übertragen. Dabei wird der fertig gereifte Karreespeck von den Speckmeistern nochmals sorgfältig von Hand mit erlesenen Gewürzen eingerieben. Während eines speziellen Reifeverfahrens werden diese Gewürze vom Fleisch aufgenommen. Dadurch entsteht eine delikate und einmalige Geschmacksexplosion, die jeder Feinschmecker garantiert zu schätzen weiß!
Für diese große Kunst sind weitreichende Produktkenntnisse und natürlich viel Erfahrung um das Wesen von Speck nötig. Mit einem Sortiment aus einzigartigen Geschmacksnuancen von feinem Sommertrüffel Karree, über Karree mit geschrotetem Pfeffer bis hin zu Zirbe Honig Karree ist für jeden Speckliebhaber etwas dabei.
HANDL TYROL Meisterauslese in 5 Sorten:
- Alm-kräuter Karree - Affinert mit feinen Almkräutern
- Pfeffer Karree - Affiniert mit feinem Pfeffer
- Paprika-Chili Karree - Affiniert mit Paprika und Chili
- Trüffel Karree - Affiniert mit feinem Sommertrüffel
- Zirbe- Honig Karree - Affiniert mit feiner Zirbe und Honig