<![if !IE]> <![endif]>

List of product entries

This exhibitor shows the following products and commodity groups:

Trend subjects
Convenience & Snacking
Free from & Health Foods
Plant-Based Proteins or Foods (vegetarian, vegan)
private label

Distribution Channel
Products (Manufacturer's brand) for the food wholesale and retail trade
Products for food service and catering
Provided products (private label) for the food and wholesale and retail trade

Target and sales markets
Canada
Middle East
Northern Europe
Others Eastern Europe
Russia
Southern Europe
USA
Western Europe

Company & products
Company
Company profile
Company portrait
KORFI produces Greek yogurt, yogurts, appetisers, fermented drinks, juices,beer with our brand or PL
Products
PLAIN YOGURTS EUROPEAN AND TRADITIONAL TYPE
KORFI NATURAL FRUIT JUICES - VARIOUS FLAVORS (ORANGE, APPLE-ORANGE-CARROT, APPLE-ORANGE-PEACH)
STRAWBERRY FLAVORED DRINKING YOGURT
KORFI KEFIR
TAVERNAKI GREEK YOGURT APPETISER
KORFI GREEK STRAINED YOGURT
KORFI GREEK YOGURT 2% FAT
DIAS LAGER BEER
VAMBEER LAGER AND PILSENER BEERS
KORFI COW'S MILK BUTTER 250 G
Products
NATURAL FRUIT JUICES
DIAS AND VAMBEER BEERS
Trademark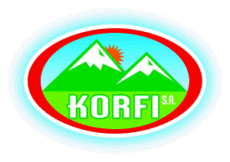 Korfi S.A.