<![if !IE]> <![endif]>

ONE Organic Nature Ecology GmbH
Hinter den Gärten 9
87730 Bad Grönenbach
Germany

List of product entries

This exhibitor shows the following products and commodity groups:

Trend subjects
Clean Label (organic, natural and non-GMO products)
private label
Sustainably Produced or Packed

Distribution Channel
Products (Manufacturer's brand) for the food wholesale and retail trade
Provided products (private label) for the food and wholesale and retail trade

Target and sales markets
Australia
Middle East
New Zealand
Northern Europe
Oceania
Others Eastern Europe
Others Oceania
Southern Europe
Western Europe

Special show area
Anuga Organic Market

Company & products
Products
Peanut-Revolution creamy - Fair trade organic peanut butter (creamy)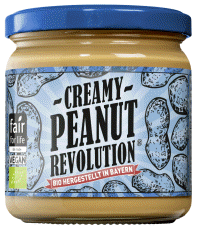 Peanut-Revolution® is not just another peanut butter, it is: organic, fair, vegan and made in Bavaria.

Peanut-Revolution® contains 100% organic and vegan ingredients. Only peanuts, palm oil, cane sugar and salt are gently mixed for the fair trade organic peanut butter.

It tastes excellent on a slice of bread - as a combination with jam, with honey or spicy cheese. However, milkshakes, ice cream, brownies, dips or Asian recipes also get a particularly nutty flair with a few spoonfuls of peanut butter.
The green organic salt with garden-fresh herbs and vegetables
Peanut-Revolution crunchy - Fair trade organic peanut butter (crunchy)
Cocoleo - Organic coconut & white almond cream
bionella - Fair & vegan organic nut nougat cream