<![if !IE]> <![endif]>

Ornua
Grattan House Lower Mount Street
Dublin 2
Ireland
+353 16619599

+353 16612778

List of Products
This exhibitor shows the following products and commodity groups:

Trend subjects
Functional & Free from products
Vegetarian products

Distribution Channel
Products (Manufacturer's brand) for the food wholesale and retail trade
Products for food service and catering
Products for the food processing industry

Target and sales markets
Africa
Asia
Australia
Brazil
Canada
China
Colombia
East Africa
Europe
Germany
India
Japan
Mexico
Middle East
New Zealand
North Africa
Northern Europe
Oceania
Others Central America
Others Eastern Europe
Others Oceania
Others South America
Russia
South Africa
South East Asia
Southern Europe
The Americas
Turkey
USA
West Africa
Western Europe

Company & products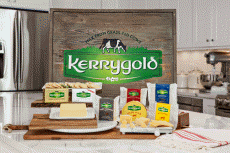 Ornua
Ornua is a dairy co-operative which markets and sells dairy products on behalf of its members; Ireland's dairy processors and, in turn, Irish dairy farmers. It is Ireland's largest exporter of Irish dairy products, exporting to 110 countries worldwide. Headquartered in Dublin, it has annualised sales of over €2 billion and a global team of 2,200 employees. Ornua operates from 10 business units worldwide, including 14 production facilities, and has sales and marketing teams working in-market across all four corners of the globe.
The Group is structured across two divisions: Ornua Foods and Ornua Ingredients.
Ornua Foods is responsible for the marketing and sales of Ornua's consumer brands including Kerrygold, Kerrygold Dubliner, Pilgrims Choice, Forto and BEO milk powders. Markets are served by production facilities and in-market sales and marketing teams in Africa, Asia, Germany, Ireland, the UK, the rest of Europe, the Middle East and the US.
Ornua Ingredients is responsible for the procurement of Irish and non-Irish products and for the sale of dairy ingredients to food manufacturing and foodservice customers across the world. Ornua Ingredients is also responsible for managing volatility through de-risking and trading strategies.