<![if !IE]> <![endif]>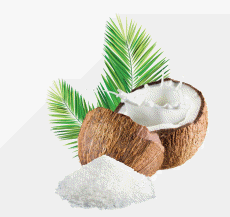 Spray dried Organic Coconut Milk Powder is manufactured out of pasteurized milk extract of carefully selected Fresh Organic Coconuts (Cocos nucifera) grown in Sri Lanka using modern three-stage spray drying technology where natural goodness and exotic aroma and flavor of Coconut is preserved.
Wet processing and spray drying are done in an IFS Food and ISO 22000:2018 certified manufacturing plant.
The product is Vegan, Gluten-Free, Lactose-Free and made with Non-GMO ingredients in a dedicated Vegan processing facility.
It is an excellent flavoring agent for Ice Creams, Yoghurts, Soups, Deserts, Cakes and Bakery products and an ideal Natural Non-Dairy Creamer for Smoothies, Milkshakes, Tea and Coffee.
It is also widely used inTraditional Cooking to add flavour and texture to exotic curries and sauce.
It can be used straight from the pack or mixed with water to make Coconut Milk or Cream.

Meiendorfer Str. 74
22145 Hamburg
Germany
+49 40 64 42 27 33

+49 40 64 43 08 82