<![if !IE]> <![endif]>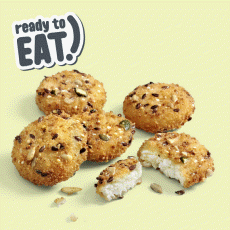 Big Bites Allowed

This does your heart, circulation and palate good. Because garlic is incredibly healthy. Its piquant aroma and pungent edge are the perfect partners for luscious cream cheese in a coating made of potato flakes, parsley, linseeds, quinoa and both sunflower and pumpkin seeds. Another perfect marriage.

Ready-to-eat: these products can be polished off as soon as they come out of the refrigerated cabinet or enjoyed warm after five minutes in the oven. Available in the easy-to-handle approx. 95-100g pack (7 pieces either as coins, tots or mini balls).

Frostkrone Tiefkühlkost GmbH
Konrad-Adenauer-Str. 28
33397 Rietberg
Germany