<![if !IE]> <![endif]>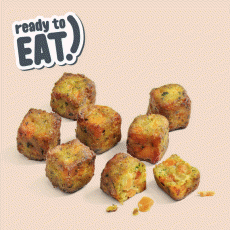 The Good Mood Snack
Here comes something for your eyes. Carrots score so highly because of their massive amounts of beta carotene. And they are also wonderful for the skin. And what is more, this popular veggie has such a superbly mellow taste that is enhanced with just a touch of sweetness. The mix of broad beans and chickpeas gives the snack that typical falafel feeling. Vegan.
Nutri-score: A

Ready to eat, these products can be polished off as soon as they come out of the refrigerated cabinet or enjoyed warm after five minutes in the oven.
Available in the easy-to-handle 110g pack (12 pieces either as coins, tots or mini balls).

Frostkrone Tiefkühlkost GmbH
Konrad-Adenauer-Str. 28
33397 Rietberg
Germany