<![if !IE]> <![endif]>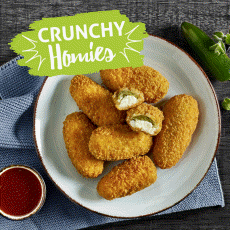 More variety in eating is highly popular today with the snacking target group! And that's why we are bringing the bestsellers from Mexico to Europe: the fiery spiciness of Mexican pepper pods combined with creamy-mild cream cheese from Germany. Cream cheese jalapeños with extra crispy breading and improved recipe together with our spicy-hot Red Pepper Dip - a symphony for the senses! Pre-baked, deep-frozen.

The best way to crunch is at home.

The popular bestsellers from Frostkrone Food Group with an improved recipe and new, crispy coating. So they come out of the oven perfectly crispy, even at home.

Frostkrone Tiefkühlkost GmbH
Konrad-Adenauer-Str. 28
33397 Rietberg
Germany