<![if !IE]> <![endif]>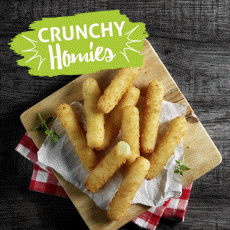 Things have never been this crispy! Jazzed up with their new amazingly crispy breading and an improved recipe, the sticks are ready to leave the oven after only a few minutes - and are so mega crunchy. The melt-in-the-mouth mozzarella centre takes you to a world of delicious delight. Fantastic, this super balance of crispiness and cheese. Perfected with the hot and spicy red pepper dip to bring out the real snacking pleasure of your homies.

The best way to crunch is at home.

The popular bestsellers from Frostkrone Food Group with an improved recipe and new, crispy coating. So they come out of the oven perfectly crispy, even at home.

Frostkrone Tiefkühlkost GmbH
Konrad-Adenauer-Str. 28
33397 Rietberg
Germany