<![if !IE]> <![endif]>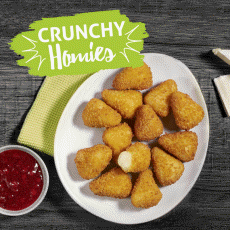 Cheese for Gourmets! Courtesy of a new recipe, the softly melting Brie comes out of the oven wrapped in amazingly crunchy and delicious breading. An absolute, sensational taste! The sweetly aromatic cranberry dip perfects the delight of this exquisite cheese snack. Prebaked, deep-frozen.

The best way to crunch is at home.

The popular bestsellers from Frostkrone Food Group with an improved recipe and new, crispy coating. So they come out of the oven perfectly crispy, even at home.

Frostkrone Tiefkühlkost GmbH
Konrad-Adenauer-Str. 28
33397 Rietberg
Germany