<![if !IE]> <![endif]>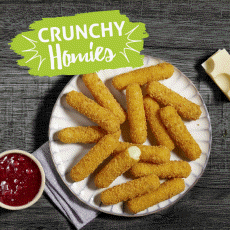 Greetings from Switzerland! These sticks are hot, which makes them a fantastic snack for cosy winter evenings with friends. And now covered in new, extra crunchy breading. Just a few minutes in the oven and the sticks become wonderfully crispy on the outside, while the cheese in the centre reveals the glory of its full aroma. The best Emmental in a crispy mantle and perfected with a fruity cranberry dip. Prebaked, deep-frozen.

The best way to crunch is at home.

The popular bestsellers from Frostkrone Food Group with an improved recipe and new, crispy coating. So they come out of the oven perfectly crispy, even at home.

Frostkrone Tiefkühlkost GmbH
Konrad-Adenauer-Str. 28
33397 Rietberg
Germany