<![if !IE]> <![endif]>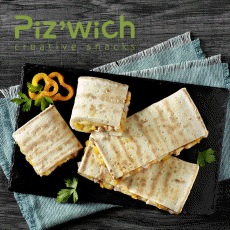 So easy to prepare but it tastes as if a chef has been at work: the pizza pocket is bursting with hearty pork, soft mozzarella and full-flavoured Edam. And any hunger pangs will soon disappear!

Piz`wich Pizza Pockets - so quick, so tasty, so clever
Pizza Pockets are the quick and handy answer to growling stomachs. They are available for both the microwave and the oven. Their convenient shape and easy preparation make them great for back off stations, petrol stations and kiosks. Pizza Pockets are available in many different varieties.

Frostkrone Tiefkühlkost GmbH
Konrad-Adenauer-Str. 28
33397 Rietberg
Germany