<![if !IE]> <![endif]>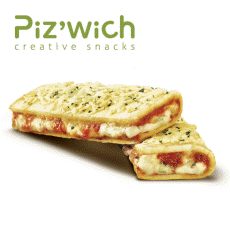 A snack in between meals, working in the office or enjoying a football evening with friends – the pizza pocket made of tasty wheat pastry with Italian-style tomato sauce and the cheese trio of Gorgonzola, mozzarella and Edam is simply always the right thing to nibble on. So three cheers for the 3-cheese snack!

Piz`wich Pizza Pockets - so quick, so tasty, so clever

Pizza Pockets are the quick and handy answer to growling stomachs. They are available for both the microwave and the oven. Their convenient shape and easy preparation make them great for back off stations, petrol stations and kiosks. Pizza Pockets are available in many different varieties.

Frostkrone Tiefkühlkost GmbH
Konrad-Adenauer-Str. 28
33397 Rietberg
Germany