<![if !IE]> <![endif]>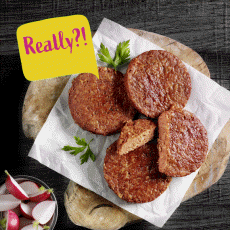 Now you're talking hearty food! Just as it is with a crispy salad and some potato snacks or would you prefer it served in a brioche burger bun? Whatever, the vegan Beef Burger has the perfect consistency and boasts a full-bodied, flavoursome taste. Pre-fried, deep-frozen.

Vegan
Really?! - the vegan food range of the Frostkrone Food Group with irresistible plant-based meat, fish and cheese substitutes.

Frostkrone Tiefkühlkost GmbH
Konrad-Adenauer-Str. 28
33397 Rietberg
Germany