<![if !IE]> <![endif]>

Caseificio Defendi Luigi s.r.l.
Via Francesca 82
24043 CARAVAGGIO (BG)
Italy

+39 0363301022


+39 0363595998


List of product entries

This exhibitor shows the following products and commodity groups:

Trend subjects
Clean Label (organic, natural and non-GMO products)
Convenience & Snacking
Free from & Health Foods
Gourmet & Specialty Foods
private label
Sustainably Produced or Packed

Distribution Channel
Products (Manufacturer's brand) for the food wholesale and retail trade
Products for food service and catering
Products for the food processing industry
Provided products (private label) for the food and wholesale and retail trade

Target and sales markets
Africa
Asia
Australia
Brazil
Canada
China
Colombia
East Africa
Europe
India
Japan
Mexico
Middle East
New Zealand
North Africa
Northern Europe
Oceania
Others Central America
Others Eastern Europe
Others Oceania
Others South America
Russia
South Africa
South East Asia
Southern Europe
The Americas
Turkey
USA
West Africa
Western Europe

Company & products
Products
BAFFALO BLU CHEESE 100g without rind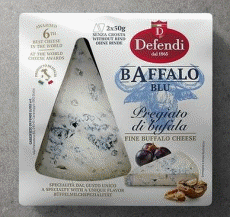 A soft buffalo blue cheese with a unique taste. A cheese specialty, now available in an innovative, practical and mini size studied for the modern consumer: 2 slices of 50g already without rind, so ready to eat without wasting product.
Thanks to the buffalo milk and its long ageing process Baffalo Blu is characterized by an unmistakable, intense and sweet flavour. Awarded 6th Best Cheese in the World at the World Cheese Awards. Other available sizes: 6kg, 3kg, 1,5kg
Gorgonzola dolce spoonable without rind
TALEGGIO PDO