<![if !IE]> <![endif]>
Cheeseland Holland B.V.
Prinses Margrietplantsoen 18
1403 SX BUSSUM
P.O. Box 567
3440 AN BUSSUM
Netherlands
List of Products
This exhibitor shows the following products and commodity groups:

Trend subjects
Non-GMO products
Vegetarian products

Distribution Channel
Products (Manufacturer's brand) for the food wholesale and retail trade
Products for food service and catering

Target and sales markets
Africa
Asia
Australia
Brazil
Canada
China
Colombia
East Africa
Europe
Germany
India
Japan
Mexico
Middle East
New Zealand
North Africa
Northern Europe
Oceania
Others Central America
Others Eastern Europe
Others Oceania
Others South America
South Africa
South East Asia
Southern Europe
The Americas
Turkey
USA
West Africa
Western Europe

Company & products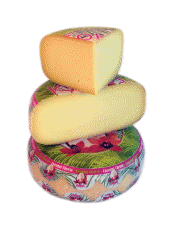 Kokos Coconut Cheese
Kokos Coconut Cheese is a Gouda style cheese with added coconut cream. The coconut cream gives the cheese a subtle coconut smell and flavour. A refreshing cheese that stands out in taste and appearance in between all other deli cheeses. A name and label that intrigues and invites people to try it. The combination of healthy coconut with cheese as a good source of calcium makes this a healthy and tasty snack! Vegetarians can also enjoy this snack as Kokos Coconut Cheese is made with vegetable rennet.

Kokos Coconut Cheese is just one of the outstanding all natural CheeseLand cheeses. Consumers globally are becoming more conscious about the ingredients they choose to consume. For this reason most of the CheeseLand cheeses are all natural without the 'organic' price. Please come to our booth to discover how you can add flavour, variety and margin to your cheese assortment with the CheeseLand cheeses from Holland.