<![if !IE]> <![endif]>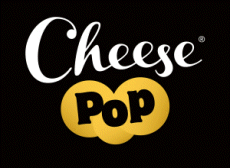 Cheesepop B.V.
Strijkviertel 19
3454 PH DE MEERN
P.O. Box 2218
3500 GE De Woerden
Netherlands
+31 854832900

+31 854832987

List of Products
This exhibitor shows the following products and commodity groups:

Trend subjects
Functional & Free from products
Non-GMO products
Ready-to-eat products

Distribution Channel
Products (Manufacturer's brand) for the food wholesale and retail trade
Products for food service and catering
Products for the food processing industry

Target and sales markets
Africa
Asia
Australia
Brazil
Canada
China
Europe
Germany
India
Japan
Mexico
Middle East
New Zealand
Northern Europe
Oceania
Others Central America
Others Oceania
Others South America
South Africa
South East Asia
Southern Europe
The Americas
Turkey
USA
Western Europe

Company & products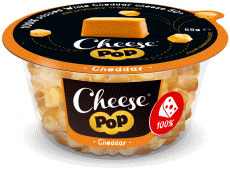 100% popped cheese, surprisingly crunchy!
After the proven success of Cheesepop Gouda and Emmental, now Cheesepop Cheddar is on the market!
More varieties are coming as well!
Cheesepop is a snack purely made of 100% freshly popped cheese - without additives!
Cheesepop:
- 100% cheese - no additives - surprisingly crunchy
- Both ambient and chilled - with a long shelf life
- No carbohydrates & gluten free
- High in protein and a source of calcium
- Vegetarian
- No preservatives and no coloring
- Keto friendly and popped with 100% wind energy
- Fits today's trend of "clean labeling" and "healthy snacking"
Cheesepop is offered:
- As a luxury cocktail snack (i.e. retail, convenience etc.)
- As a culinary extra – as topping on for example salads, as crouton in soups etc. (i.e. foodservice, airlines, hotels etc.)
Packaging and varieties:
- 65g cup Cheesepop Gouda, Emmental, Cheddar – retail
- 20g bag Cheesepop Gouda, Emmental, Cheddar – on-the-go
- 500g bag Cheesepop Gouda, Emmental, Cheddar – foodservice
- 1500g bag Cheesepop Gouda, Emmental, Cheddar – ingredient
The company Cheesepop B.V. - founded in 2009 - also offers the product UP-grated®: extremely dried grated cheese. More info on: www.up-grated.com
Why is UP-grated® cheese a unique product?
- 100% cheese, no extra additives
- Long shelf life: 24 months
- Very low moisture: less than 5%
- Exposure to hot water returns original cheese structure
- Crispy
- Available in Gouda, Emmental, Cheddar – other varieties on request
UP-grated perfectly fits for:
- dried instant soups
- croissants and biscuits
- ready-to-use bread mixes
More information about Cheesepop can be found on www.cheesepop.com