<![if !IE]> <![endif]>

HKScan Oyj
Lemminkäisenkatu 48
20521 Turku
P.O. Box 50
20521 Turku
Finland
+358 10 570100

+358 2 2317563

List of product entries
This exhibitor shows the following products and commodity groups:

Trend subjects
Convenience & Snacking
Plant-Based Proteins or Foods (vegetarian, vegan)
private label

Distribution Channel
Products (Manufacturer's brand) for the food wholesale and retail trade
Products for food service and catering
Provided products (private label) for the food and wholesale and retail trade

Target and sales markets
Australia
China
Japan
New Zealand
Others Eastern Europe
Southern Europe
Western Europe

Company & products
Products
Boltsi like a meatball but made of oats and seeds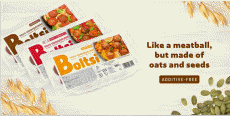 HKScan is proud to present a truly new good tasteing vegan product made from Oats a seeds.
When a bakery with a long history, Leivon Leipomo, started to developed a new bread roll product the outcome was totally unexpected; a new range of Vegetarian balls based on oats and seeds. The Boltsi -balls became immediately a success.

Because the taste was excellent and the texture resembled meatballs, the oats-and-seeds balls entered the Finnish Recipe for Success 2019 competition organised by Finland's largest grocery shop chain. In the end, the additive-free Boltsi won the competition and revolutionised the ball product category.