<![if !IE]> <![endif]>

Molini Bongiovanni SPA
Volta 9
10020 Cambiano (TO)
Italy
List of product entries
This exhibitor shows the following products and commodity groups:

Product sector
Bread & Bakery

Trend subjects
Clean Label (organic, natural and non-GMO products)
Gourmet & Specialty Foods
Halal
Kosher
Sustainably Produced or Packed

Distribution Channel
Products (Manufacturer's brand) for the food wholesale and retail trade
Products for the food processing industry

Target and sales markets
Canada
Middle East
Northern Europe
Others Eastern Europe
Russia
Southern Europe
Turkey
USA
Western Europe

Company & products
Products
Vera flour - flour for Neapolitan Pizza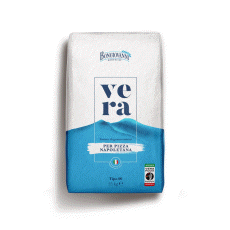 A special flour type 00 suited for Neapolitan Pizza, approved by the original AVPN - Associazione Verace Pizza Napoletana - the association that protects and spreads the Verace Pizza concept all over the world.
Flour suited for smooth and homogeneous doughs, the product ensures an exceptional resistance during the leavening process.
The neapolitan pizza madw with vera will have an excellent crust development during the cooking process and will be easy to stretch in the «Neapolitan style».
Flour "CORE" for Pizza in Pala "alla Romana"
Flour "Luisa" for italian pizza
Flour "Elena" for italian pizza
Flour "Piazza Carlina" for short-crust products
Flour "Piazza Carlina" for short-crust products
Flour "Casa Savoia" for panettone and sourdough refreshments
Special multicereal blend "Cristina" for italian pizza
Durum wheat semolina "Porta Nuova" for pasta
Flour "Mirafiori" for bakery products
Flour "CARLOTTA" for italian pizza
Flour "Superga" for bakery products
Flour "Teatro Regio" - Manitoba Flour for bakery products
Re-milled durum wheat semolina "Carignano" - for bakery products
Stone milled flour "Antiqua" - for pizza and bakery products
Stone-milled flour "Antiqua" Type 2 - for pizza and bakery products
Stone-milled wholewheat flour "Antiqua" - for pizza and bakery products
Multicereal stone-milled flour "Antiqua Cereali" - for bakery product
Multicereal stone-milled flour "Antiqua Cereali per pizza" - for pizza