<![if !IE]> <![endif]>

PAGO Sp. z o.o.
ul. Fabryczna 14
62-065 Grodzisk Wlkp.
Poland
+48 61 4481343

+48 61 4481343

List of Products
This exhibitor shows the following products and commodity groups:

Product sector
Frozen Food

Distribution Channel
Products (Manufacturer's brand) for the food wholesale and retail trade
Products for the food processing industry

Target and sales markets
Canada
China
East Africa
Germany
Japan
Middle East
North Africa
Northern Europe
Others Eastern Europe
Russia
South Africa
South East Asia
Southern Europe
Turkey
USA
West Africa
Western Europe

Company & products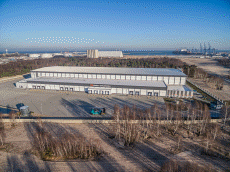 FROZEN FOOD LOGISTICS
PAGO is a logistics operator providing services for companies operating on the frozen food market. The company runs state-of-the-art cold stores, which form a nationwide network of Frozen Food Logistics Centres. Total storage capacity: 180 000 pallet places.

LOCATION

• Port of Gdansk – 500 m to the DCT, 10 km to S7 and 25 km to A1;
• Lebork (Gdansk) – 200 m to the National Road No 6 and 90 km to A1;
• Grodzisk Wlkp. (Poznan) – 400 m to the National Road No 32 and 20 km to A2;
• Bieniewo-Parcela (Warszawa) – by the National Road No 92 and 15 km to A2;
• Gnatowice Stare (Warszawa) – 800 m to the National Road No 92 and 20 km to A2;
• Dabrowa Gornicza (Katowice) – 2 km to S1 and 20 km to A4.
Cold stores built in the years 2007 – 2016, according to the highest standards of construction, for facilities of this kind.

SERVICES

Contractual logistics of frozen products. Comprehensive delivery chain services or performance of selected processes:
• subcontracted storage in 6 locations;
• picking, freezing, striking, re-packing, labelling;
• forwarding and transport in Poland and Europe;
• distribution – regular deliveries to indicated locations;
• running central warehouses for retail chains;
• handling of refrigerated containers (RF) in import, export and transit

EQUIPMENT AND TECHNOLOGY
• wireless radio network, mobile terminals, barcodes in compliance with GS1 standards;
• integrated ERP system;
• electronic data interchange;
• high storage's sliding racks.

Data security and guarantee of continuity of business processes.