<![if !IE]> <![endif]>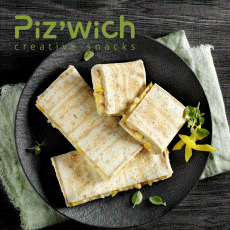 A real firecracker of delight that captures Thailand's complete world of spices: wheat pastry baked until crispy and filled with tender chicken in red Thai sauce and softly melting mozzarella. Take a bite now without delay and enjoy!

Piz`wich Pizza Pockets - so quick, so tasty, so clever
Pizza Pockets are the quick and handy answer to growling stomachs. They are available for both the microwave and the oven. Their convenient shape and easy preparation make them great for back off stations, petrol stations and kiosks. Pizza Pockets are available in many different varieties.

Frostkrone Tiefkühlkost GmbH
Konrad-Adenauer-Str. 28
33397 Rietberg
Germany