<![if !IE]> <![endif]>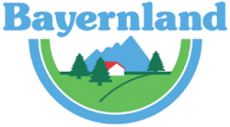 Bayernland eG
Breslauer Str. 406
90471 Nürnberg
P.O. Box 3160
90015 Nürnberg
Germany
+49 911 41400

+49 911 4140377

List of Products
This exhibitor shows the following products and commodity groups:

Trend subjects
Organic products

Distribution Channel
Products (Manufacturer's brand) for the food wholesale and retail trade
Products for food service and catering
Products for the food processing industry
Provided products (private label) for the food and wholesale and retail trade

Target and sales markets
Australia
Brazil
Canada
China
Colombia
East Africa
Germany
India
Japan
Mexico
Middle East
New Zealand
North Africa
Northern Europe
Oceania
Others Central America
Others Eastern Europe
Others South America
South Africa
South East Asia
Southern Europe
USA
West Africa
Western Europe

Company & products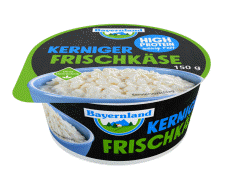 Bayernland eG presents "COTTAGE CHEESE HIGH PROTEIN" - HIGH PROTEIN, little fat!
Bayernland Kerniger Frischkäse High Protein is the freshness kick with lots of protein and little fat. The new Bayernland article in the half fat stage (20 % fat i. Tr.) surprises with 24 g protein per cup.
Originally from America, this type of cheese is also known as cottage cheese. Typical features of this granular fresh cheese is its tender, white granules. The pure, pleasantly sour taste is suitable for both sweet and spicy preparation.
No matter whether you are a health-conscious housewife or an ambitious sportsman: with 20% more protein content than the proven Bayernland Kerniger Frischkäse, the new article is a valuable companion for a protein-rich nutrition.
The new article strengthens Bayernland's core competence in the product groups cream cheese, Kerniger Frischkäse and mozzarella. With the Kerniger Frischkäse High Protein Bayernland eG serves the growing market for articles with high protein and low fat content. The packaging in the eye-catching colours black, green and blue also attracts attention at the POS and is a real eye-catcher in the refrigerated counter.
In its trendy 150 g package, it is suitable as a high-quality snack for every occasion.