<![if !IE]> <![endif]>

Eko Mes SLTD
Pomidovsko Shosse Steet 1
4413 Velichkovo
Bulgaria
+359 878 388338

+359 351 92262

List of Products
This exhibitor shows the following products and commodity groups:

Trend subjects
Halal food
Ready-to-eat products
Vegetarian products

Distribution Channel
Products (Manufacturer's brand) for the food wholesale and retail trade
Products for food service and catering
Provided products (private label) for the food and wholesale and retail trade

Target and sales markets
Australia
Canada
East Africa
Germany
Japan
Middle East
New Zealand
North Africa
Northern Europe
Others Eastern Europe
Russia
South Africa
South East Asia
Southern Europe
Turkey
West Africa
Western Europe

Company & products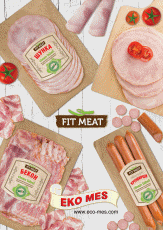 CLEAN LABEL COLD CUTS
Clean labels are no longer just a fancy trend, but a way of living.

Consumers are looking more and more for food products with no E numbers and producers must answer their expectation and satisfy the demand of CLEAN LABEL products.

We are glad to present our completely new range of CLEAN LABEL cold cuts with no E numbers.

Transparency, trust and innovation in the technology are our company's vision and we would like to satisfy the consumer's philosophy "less is more".

The same as smaller portions is the new trend in the food industry –no E number ingredients will be necessary condition for food producers in the near future.

That is why we have developed many new products in the new CLEAN LABEL range.