<![if !IE]> <![endif]>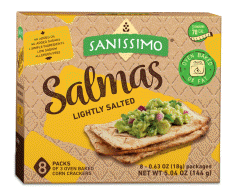 - Salmas as the perfect and healthy snack made of corn, an ancient grain that give us our unique and tasty flavor, with no oil added, no sugar, and slow flame baked for a distinctive flavor made with just three simple no-artificial ingredients.
- Sanissimo is for those wellness seekers that are looking for healthy options. They are convinced that simple and natural is the right way of staying healthy.
- Currently we have presence in 17 countries: Canada, USA, Mexico, Honduras, Costa Rica, El Salvador, Panamá, Nicaragua, Guatemala, Colombia, Ecuador, Brasil, Uruguay, Paraguay, Perú, Argentina, UK.
Grupo Bimbo, S.A.B. de C.V. (Bimbo)
Floors PB, 1, 4, and 5. Avenida Prolongación Paseo de la Reforma 490 Santa Fe Pena Blanca
01770 Mexico City
Mexico