<![if !IE]> <![endif]>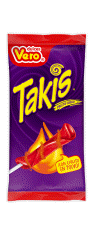 The traditional flavor of a lollipop fused with the intensity of Takis Fuego. Paleta Vero Takis, is currently found in Mexico, USA and the Middle East (UAE), Oman and Qatar), with negotiations to introduce it in the South American market in the upcoming months.
Target audience: Teens from 13 to 18 years. It mixes 2 products in one: An amazing tridimensional iconic lollipop with a delicious spicy powder to dip; enjoy and experience the most intense lollipop you have ever tried.
Grupo Bimbo, S.A.B. de C.V. (Bimbo)
Floors PB, 1, 4, and 5. Avenida Prolongación Paseo de la Reforma 490 Santa Fe Pena Blanca
01770 Mexico City
Mexico