<![if !IE]> <![endif]>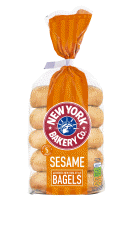 Sesame Bagel, Marke New York Bakery (Sesame bagel)
Our bagels are the real deal. Made with superior ingredients and stone-baked, inspired by what we've found in the bakeries and delis of New York. Grab yourself an authentic piece of the city that runs on bagels. The Sesame Bagel is ready for anything – great with sweet and savory toppings, brilliant for breakfast.
Soft & chewy for an Authentic New York taste. Low in fat. Free from artificial colors and flavors. Suitable for Vegans & Vegetarians. We love The Original...Toasted and topped with cream cheese, blueberries and honey. Sold in many countries including: Belgium, Germany, Switzerland, Norway, Finland, Denmark, Norway, and plenty more.
Grupo Bimbo, S.A.B. de C.V. (Bimbo)
Floors PB, 1, 4, and 5. Avenida Prolongación Paseo de la Reforma 490 Santa Fe Pena Blanca
01770 Mexico City
Mexico