<![if !IE]> <![endif]>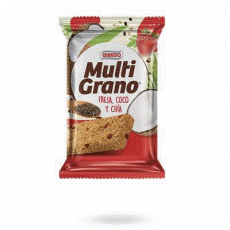 Cereal bar with chia, dehydrated coconut and strawberry chunks.
The product has a crunchy texture and the dried fruit pieces give you a different consumption experience than the traditional agglomerated bars of the category.
Target: 25 years people and older looking for healthy and delicious snacks to accompany their daily activities
Sold in Central America (5 countries). Multigrano portfolio has export potential towards other countries (168 days of shelf life).
Energize your day with Multigrano Bars.
Grupo Bimbo, S.A.B. de C.V. (Bimbo)
Floors PB, 1, 4, and 5. Avenida Prolongación Paseo de la Reforma 490 Santa Fe Pena Blanca
01770 Mexico City
Mexico