<![if !IE]> <![endif]>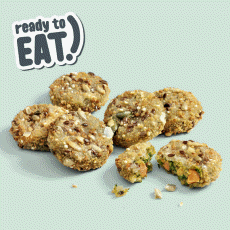 Pretty Cool

Let the chilly days begin. Because that is when the vegan, winter vegetable mix of hearty kale, sweet potato and carrots really gets seriously tasty. This scrumptious little snack is enveloped in a mild and nutty coating of linseeds, quinoa, sunflower seeds and pumpkin seeds. With a whole load of nutrients thrown in.

Ready-to-eat: these products can be polished off as soon as they come out of the refrigerated cabinet or enjoyed warm after five minutes in the oven. Available in the easy-to-handle 100g pack (approx. 8 pieces either as coins, tots or mini balls).

Frostkrone Tiefkühlkost GmbH
Konrad-Adenauer-Str. 28
33397 Rietberg
Germany