<![if !IE]> <![endif]>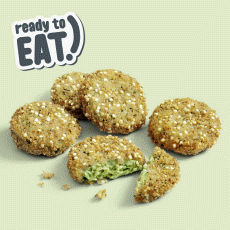 Eat Smart

Tank up on the power of two superfoods in one go: spinach is rich in minerals and Vitamin C, while pine kernels provide a good helping of selenium to protect the cells. This star-studded mix with luscious cream cheese and a coating of quinoa, potato flakes and chives is simply the perfect snack for every occasion.

Ready-to-eat: these products can be polished off as soon as they come out of the refrigerated cabinet or enjoyed warm after five minutes in the oven. Available in the easy-to-handle approx. 95g pack (7 pieces either as coins, tots or mini balls).

Frostkrone Tiefkühlkost GmbH
Konrad-Adenauer-Str. 28
33397 Rietberg
Germany