<![if !IE]> <![endif]>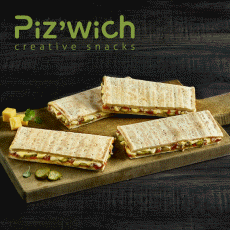 Two classic dishes married together in one snack: pizza meets burger and together they create the perfect couple. A sandwich of wheat pastry with a cheese gratin topping and filled with delicate, soft cheese, juicy pieces of beef, pickled gherkins and fried onions.

Piz`wich Pizza Pockets - so quick, so tasty, so clever

Pizza Pockets are the quick and handy answer to growling stomachs. They are available for both the microwave and the oven. Their convenient shape and easy preparation make them great for back off stations, petrol stations and kiosks. Pizza Pockets are available in many different varieties.

Frostkrone Tiefkühlkost GmbH
Konrad-Adenauer-Str. 28
33397 Rietberg
Germany