<![if !IE]> <![endif]>

Belgian Pork Group NV (Westvlees)
Ommegang West 9
8840 Westrozebeke
Belgium
List of Products
This exhibitor shows the following products and commodity groups:

Distribution Channel
Products (Manufacturer's brand) for the food wholesale and retail trade
Products for food service and catering
Products for the food processing industry
Provided products (private label) for the food and wholesale and retail trade

Target and sales markets
Western Europe

Company & products
Unternehmensportrait
Belgian Pork Group is a network of 7 Belgian production sites with a proven track-record in slaughtering, cutting and processing pork from A to Z. On annual basis, Belgian Pork Group produces about 450.000 tonnes of pork meat, of which an important part is being exported to over 55 countries all around the world.
The 7 Belgian plants which are part of this group are: Westvlees, Comeco, Covameat, Lovenfosse, Lavameat, D'hulster and Locks.
With a staff of more than 2000 employees and an annual turnover of 790 mio euro, Belgian Pork Group is the most important player on the Belgian pork market. Since the entire process from farmer to consumer is controlled, and thanks to the continuous investments in automation and specialisation, we can offer a unique range of business solutions to our clients.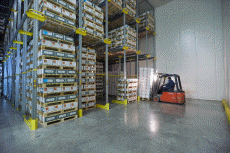 Frozen meat
The Belgian Pork Group produces frozen pork meat of the highest quality. We export frozen pork primals all over the world : Europe, China, Japan, India, Malaysia, Thailand, Singapore, Vietnam,Taiwan, Australia, New Zealand, …
The Belgian Pork Group has 4 plants wich are allowed for export to mainland China. Westvlees, one of the plants of the Belgian Pork Group, was the first Belgian pork company to export to Japan. The Belgian Pork
Group has the most modern coldstore D'hulster within the group. D'hulster is fully automated and does freezing as well as storage.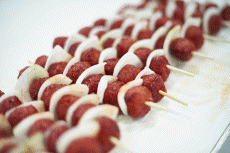 Meat for barbecuing
The Belgian Pork Group has 2 divisions which are producing all kinds of fresh and frozen meat for barbecuing (hamburgers, sausages, kebabs,…) and we also specialize in standardized meat and meat/meal components.
The Belgian Pork Group is the biggest producer of fresh convenience meat in Belgian, serving all major food retailers ad a wide range of regular and seasonal products.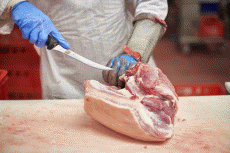 Pork
The Belgian Pork Group handles all the different stages of processing pork from A to Z. From slaughtering, cutting, freezing, packing and labelling, cooked and smoked to preparing ready-to-cook pork dishes. All products are manufactured entirely in-house. Your guarantee of impeccable quality, flexible service and optimal prices.
Belgian Pork Group is your guarantee for succulent and tender pork meat. The close collaboration with the primary sector guarantees a continuous pig supply of the very best quality.