<![if !IE]> <![endif]>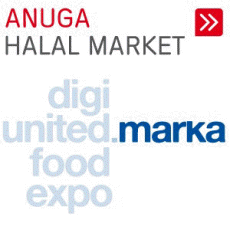 MARKA Markenkommunikation GmbH
Oppenhoffallee 143
52066 Aachen
P.O. Box 420132
52036 Aachen
Germany
+49 241894386400

+49 241 9809680015

Company portrait
The ANUGA Halal Market is a great opportunity for the presence of halal products and expands new sales channels for producers! Well-known top manufacturers and dealers from all over the world are here looking for inspiration and innovations. Our clearly laid out "easy to find" shelving system will convince visitors and attract new sales partnerships and customers. The ANUGA Halal Market is a buying shelf at the point of sale. A high-turnover and high-yield shelf that reflects the food retail trade as well as consumer demand. It offers food retailers the opportunity to think through and possibly expand their range of halal products.
The focus of the ANUGA Halal Market is the staging of culinary delights from all over the world with a good halal range.
The fair covers the entire halal sector: starting with meat and dairy products, chilled and fresh food, cold and hot beverages, delicatessen, healthy food and even organic products, bread and bakery, confectionery and snacks to frozen food as well as a whole range of start-up and retail technology.
Product groups
Press realeses
Product sector
Trend subjects
Distribution Channel
Target and sales markets