<![if !IE]> <![endif]>
List of Products
This exhibitor shows the following products and commodity groups:

Company & products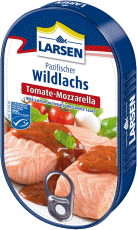 Canned Salmon Specialities
WILD SALMON
SALMON HAS IT – RICH IN OMEGA-3 FATTY ACIDS
Salmon stands for delicious variety in the kitchen. This fish consorts with so many recipes like few others. Classic recipes such as tomato and basil, dill or honey mustard make the salmon a very special delicacy.
The high content of omega-3 has beneficial effects on the cholesterol level.
Try our delicious varieties in different sauces or oils.

RAW MATERIALS

We impose the most rigorous requirements for selection of our raw materials. Consequently, we not only test all ingredients for quality at the point of purchase and prior to use, we also conduct continuous checks at all stages of production.



SUSTAINABILITY

We have received multiple Marine Stewardship Council (MSC) certifications that confirm our commitment to a sustainable fishery. Consumers and purchasers of fish and seafood throughout the world rely on this seal of quality. We are one of the leading providers of fish species from sustainable sources.

We offer our customers the greatest possible transparency: Most of our products already have precise designations, such as: Origin of the fish, catch method, Latin name..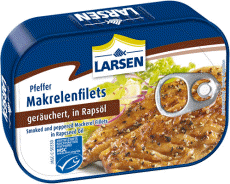 Canned Seafood
AMBIENT Seafood specialities
Larsen is exporting to round about 30 countries. Including
South America, Australia and New Zealand. The export
sector has been significantly expanded in recent years and
has gained great importance.

We do not compromise on the quality of our products. We process only carefully selected fresh raw materials. Our customers throughout the world appreciate this.

Our Quality Team monitors all production steps to ensure that only perfect product leave our IFS-certified facilities.

SMOKED SPECIALITIES
FISH & MUSSELS SMOKED OVER BEECHWOOD
Smoke is used in the high art of processing fish products. Only the gentle, genuine exposure to the aromatic smoke of burning beech wood provides the product with its unique flavor:
- Trout
- Kippers
- Mussels
- Pepp. Mackerel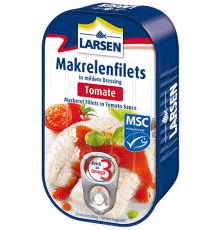 Core competence: Mackerel
Canned Seafood - a success story worldwide
Larsen Danish Seafood GmbH is THE seafood specialist
when it comes to quality and excellent products,
such as canned specialities like Kippers, Salmon, Trout, Mussels and especially mackerel, which occupies the main part of our business.
For these delicacies we use only the juiciest mackerel fillets (Scomber scombrus) from the clear waters of the northeast Atlantic. Try our six new delicious tastes for variety on the plate.
- Tomato Sauce
- Tomato-Chili Sauce
- Barbecue Sauce
- Curry Sauce
- Rapeseed oil
- Brine / Water


The valuable omega-3 fatty acids of the mackerel, which have a positive effect on cholesterol levels, are excellently suited to contribute to a health-conscious diet.

Our trawler fleet assures the origin of the North Atlantic mackerel from our own sustainable fisheries, which is processed in our IFS-certified factory in Germany:
"From sea to the can".