<![if !IE]> <![endif]>

Bartscher GmbH
Franz-Kleine-Str. 28
33154 Salzkotten
Germany
+49 5258 9710

+49 5258 971120

List of Products
This exhibitor shows the following products and commodity groups:

Product sector
Culinary concepts

Distribution Channel
Products for food service and catering
Products for the food processing industry

Target and sales markets
Australia
Germany
Middle East
Northern Europe
Others Eastern Europe
Russia
South Africa
Southern Europe
Western Europe

Company & products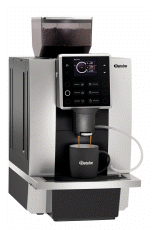 Kaffeevollautomat KV1
Perfekte Kaffeespezialitäten auf Knopfdruck
Ob Espresso, Cappuccino, Latte Macchiato, heißes Wasser - bis zu 6 unterschiedliche Getränke lassen sich einstellen und individualisieren.
Daneben ist der Kaffeevollautomat durch den besonders großen Bohnen- und Restebehälter auch für größere Kaffeemengen und damit für den Einsatz in Cafés, Frühstücksräumen und Bars optimal geeignet.
Material: Kunststoff
Material Mahlwerk: Stahl
Farbe: Schwarz
Mindest-Aufbrühmenge: 15 ml
Inhalt Bohnenbehälter: 1000 g
Wasseranschluss: Festwasseranschluss 1/2"
Inhalt Wassertank, abnehmbar: 1,8 Liter
Leistung max.: 40 Tassen à 120 ml pro Stunde
Einstellmöglichkeiten: Füllmenge, Kaffeemenge, Mahlgrad 5-stufig, Wassertemperatur
Entkalkungssignal
Füllstandsanzeige
Michzufuhr: Milchzufuhr: Schlauch, Durchfluss-Menge regulierbar (Temperaturregulierung)
2-Tassen-Funktion
Heißwasserfunktion
Kontrollleuchte
Mahlwerk: Kegelmahlwerk
Eigenschaften: Tassenzähler (pro Programm u. insgesamt), Milchtemperatur regulierbar über Milchschlauch, Bodenplatte mit Ausschnitt für einen automatischen Trester-Auswurf (in Verbindung mit dem Trester-Auswurfschacht KV1 – optional erhältlich)
Auslauf höhenverstellbar von 100 mm bis 160 mm
Anschlusswert: 2,7 kW | 230 V | 50/60 Hz
Maße: B 305 x T 550 x H 580 mm
Gewicht: 17,4 kg
Artikel-Nr. 190052