<![if !IE]> <![endif]>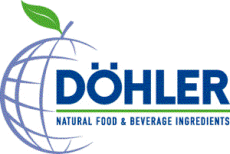 Döhler GmbH
Riedstr. 7 -9
64295 Darmstadt
Germany
+49 6151 3060

+49 6151 306287

List of Products
This exhibitor shows the following products and commodity groups:

Distribution Channel
Products (Manufacturer's brand) for the food wholesale and retail trade

Target and sales markets
Africa
Asia
Australia
Brazil
Canada
China
Colombia
East Africa
Europe
Germany
India
Japan
Mexico
Middle East
New Zealand
North Africa
Northern Europe
Oceania
Others Central America
Others Eastern Europe
Others South America
Russia
South Africa
South East Asia
Southern Europe
The Americas
Turkey
USA
West Africa
Western Europe

Company & products
Company portrait
Doehler is a global producer, marketer and provider of technology-driven natural ingredients, ingredient systems and integrated solutions for the food and beverage industry. Doehler's integrated approach and the broad product portfolio are the optimal basis for innovative and safe food & beverage applications. The product portfolio of natural ingredients ranges from natural flavours, natural colours, health & nutrition ingredients, cereal ingredients, dairy & dairy-free ingredients, speciality ingredients, dry ingredients, fruit & vegetable ingredients to ingredient systems.
Headquartered in Darmstadt, Germany, Doehler is active in over 130 countries and has 30 production sites, as well as sales offices and application centres on every continent. More than 5,000 dedicated employees provide our customers with fully integrated food & beverage solutions from concept to realisation.
"WE BRING IDEAS TO LIFE." briefly describes Doehler's holistic, strategic and entrepreneurial approach to innovation. This comprises market intelligence, trend monitoring, the development of innovative products and product applications, advice on food safety and microbiology, food law as well as Sensory & Consumer Science.