<![if !IE]> <![endif]>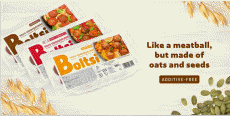 HKScan is proud to present a truly new good tasteing vegan product made from Oats a seeds.
When a bakery with a long history, Leivon Leipomo, started to developed a new bread roll product the outcome was totally unexpected; a new range of Vegetarian balls based on oats and seeds. The Boltsi -balls became immediately a success.

Because the taste was excellent and the texture resembled meatballs, the oats-and-seeds balls entered the Finnish Recipe for Success 2019 competition organised by Finland's largest grocery shop chain. In the end, the additive-free Boltsi won the competition and revolutionised the ball product category.

Lemminkäisenkatu 48
20521 Turku
P.O. Box 50
20521 Turku
Finland
+358 10 570100

+358 2 2317563