<![if !IE]> <![endif]>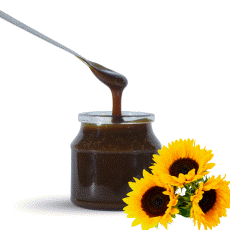 Our organic Sunflower Lecithin, fluid is extracted from organic sunflower seeds and is composed of phospholipids, glycolipids, glycerides and other minors components.
The extraction is mechanical and chemical-free.
In comparison to Soy Lecithin, Sunflower Lecithin is high in choline (phosphatidylcholine) and certified as NON GMO and NON ALLERGENE.
It uniques properties make it suitable for applications in natural emulsifiers, improved mixability, releasing agents, wetting agents, homogenization, dispersion agents for water absorption in bakery products, instant powders, chocolate and confectionery as well as nutraceutical products.
Organic Sunflower Lecihtin is also available in Powder!

Meiendorfer Str. 74
22145 Hamburg
Germany
+49 40 64 42 27 33

+49 40 64 43 08 82