<![if !IE]> <![endif]>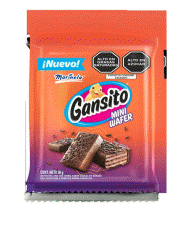 Artificially flavored strawberry- and crème-filled cake with chocolate-flavored coating.
Sweeten your Adventure & Enjoy the real taste of fun with Gansito Mini Wafer
With 265 days of shelf life to consume on every on the go occasion thanks to its practicality. The favorite one for children and young people. Gansito is an iconic product in many countries in America such as: Peru, Central America, Mexico and The US.
Grupo Bimbo, S.A.B. de C.V. (Bimbo)
Floors PB, 1, 4, and 5. Avenida Prolongación Paseo de la Reforma 490 Santa Fe Pena Blanca
01770 Mexico City
Mexico