<![if !IE]> <![endif]>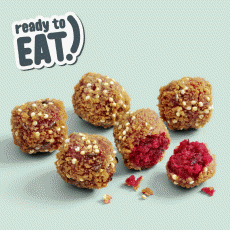 Pink and Healthy

One of the TOP 10 innovations at the ANUGA 2021 has got something to shout about: a well-rounded vegetable medley of beetroot, potatoes, onions, apple, shallots perfected with an ever so slightly piquant aroma of horseradish. The outside, a mellow coating of millet, quinoa and linseed, conceals a vegan world of pink purity within.

Ready-to-eat: these products can be polished off as soon as they come out of the refrigerated cabinet or enjoyed warm after five minutes in the oven. Available in the easy-to-handle 100g pack (approx. 8 pieces either as coins, tots or mini balls).

Frostkrone Tiefkühlkost GmbH
Konrad-Adenauer-Str. 28
33397 Rietberg
Germany