<![if !IE]> <![endif]>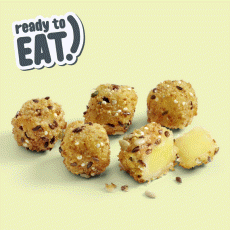 A Whole Lot of Cheese

Most probably the oldest type of cheese in the world in a new guise: a lusty coating of linseeds, sunflower seeds, quinoa and pumpkin seeds cocoons the mild and creamy Gouda softly-melting in the centre. A cheese delight ideal for nibbling but also perfect to accompany a glass of wine.

Ready-to-eat: these products can be polished off as soon as they come out of the refrigerated cabinet or enjoyed warm after five minutes in the oven. Available in the easy-to-handle approx. 110g pack (12 pieces either as coins, tots or mini balls).

Frostkrone Tiefkühlkost GmbH
Konrad-Adenauer-Str. 28
33397 Rietberg
Germany