<![if !IE]> <![endif]>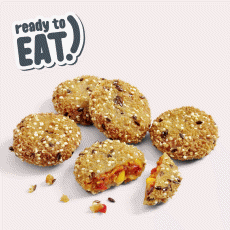 A Hot and Spicy Indulgence

Now this is hot: spicily marinated chicken breast enhanced even more with a fiery cascade of vegetables - peppers, corn, onions, chillies and jalapenos all accompanied with sieved tomatoes and herbs. The coating of quinoa, millet and linseeds is perfectly harmonised to complement the filling. Pleasure doesn't get hotter or spicier!

Ready-to-eat: these products can be polished off as soon as they come out of the refrigerated cabinet or enjoyed warm after five minutes in the oven. Available in the easy-to-handle approx. 100g pack (8 pieces either as coins, tots or mini balls).

Frostkrone Tiefkühlkost GmbH
Konrad-Adenauer-Str. 28
33397 Rietberg
Germany