<![if !IE]> <![endif]>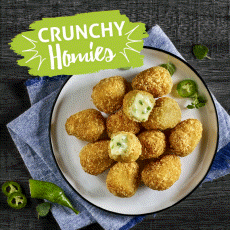 These savoury nuggets in amazingly crispy breading have to come to the table piping hot! The filling is made of creamy-mild cream cheese combined with fiery pieces of chili; that's what's giving you a real hot taste. Enjoyed with a cold beer or a glass of white wine - that's finger food fun at its finest! Pre-baked, deep-frozen.

The best way to crunch is at home.

The popular bestsellers from Frostkrone Food Group with an improved recipe and new, crispy coating. So they come out of the oven perfectly crispy, even at home.

Frostkrone Tiefkühlkost GmbH
Konrad-Adenauer-Str. 28
33397 Rietberg
Germany